20 Seriously Adorable Photos of Cats and Babies To Melt Your Heart
If man's best friend is the dog then baby's best friend is definitely the cat. In fact, few things in life are as precious and adorable as a fresh, squishy, little baby hanging out with their feline friend. It's just, hands down, too cute for proper words. Seeing a picture of a baby and a cat cuddled up together is the ultimate combination of cute.

I mean, I dare you to make it through all 20 photos without letting out an obviously audible "awh!" You can't do it. They're too cute... I guarantee you're going to lose your cool.

Also, fair warning, number 20 is going to make you laugh.

1. Catching Z's
Who needs a stuffed animal when you can nap with a cat?
2. Mmmmmmilk!
One of these things is not like the others... but all of these things are totally adorable.
3. Twins!
Well, mostly.
4. The beginning of something beautiful.
Now this is love.
5. Sweet, sleepy, sighs...
This is definitely one of the most precious things you'll see... ever.
6. Fashion Forward Feline
Kitty and Baby are looking FABULOUS.
7. Cats ARE Happiness
So much joy on such a little face!
8. Silly faces
This cat is definitely saying, "mom, she's making that face again, isn't she?"
9. Fine Art
When kitten is apart of the family, it only makes sense to include kitten in professional newborn photos.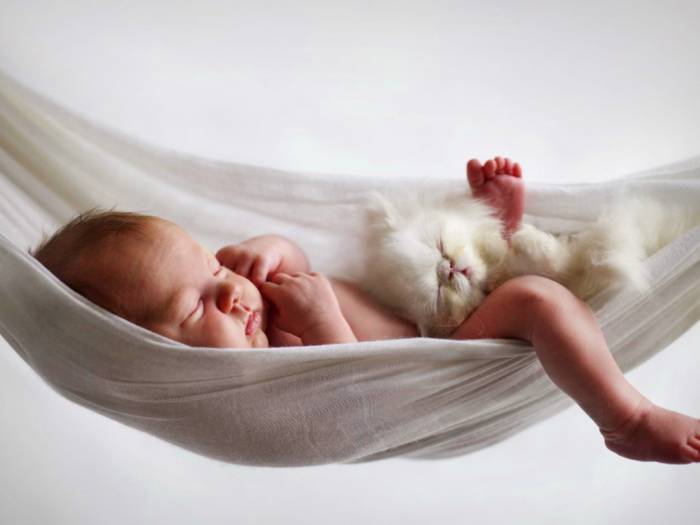 10. If I fits, I sits.
At least the baby looks stoked to share the space.
11. "Mine."
This cat has definitely claimed its human.
12. Cat Naps
Friends who nap together, find happiness together.
13. Amigos
These two are in for lifelong mischief.
14. Kisses!
True love.
15. Eyes wide open!
These are two peas in a pod.
16. Double Trouble
Well, really it's more like double adorable.
17. Maximum Comfort
Have you ever seen a more relaxed-looking pair?
18. Meow!
Nothing quite as precious as little kisses between friends.
19. Precious Naps
I imagine the little baby snores and little kitten purrs are the purr-fect combination of visual and audible adorable-ness.
20. Well...
sharing is caring after all.
Leave a comment
Comments will be approved before showing up.