Woman Visited Shelter And Asked For The Cat That Had Been There The Longest
Bridgid Staub from San Antonio, Texas arrived home after spending one month in a hospital. Starting a new chapter in life is a challenge no one wants to face alone. "I felt incomplete. After a lot of thought, I decided to go down to my city's animal services shelter to see if I connected with any of the cats," says Bridgid.
She asked the staff of the City of San Antonio Animal Care Services to show her the cat that had been there the longest.
"The lady instantly pointed out Cali to me."
Cali was a stray cat until she was brought to the shelter. Examinations showed that she is completely deaf, and few remaining teeth she fad said that she is old.
"She was a beautiful calico cat with huge green eyes. When she was let out of her cage, she immediately let out a very loud and different sounding 'meow.' This made me smile for the first time in a while," Bridgid remembers.
The cat went directly to the sink and meowed until Bridgid turned on the water. "After she got her sip of water, she focused her attention on me. She headbutted my hand until I pet her and then she laid down and curled up, enjoying my scritches."
That was the moment that Bridgid realized she had found the right cat.
A few days later, Cali left the shelter and went to her new home "She didn't sleep at all the first night. She was so hyper-vigilant and anxious about her new surroundings," says Bridgid. "The next morning it was as if a light had been switched on. She curled up on my lap while I was on the couch and fell asleep."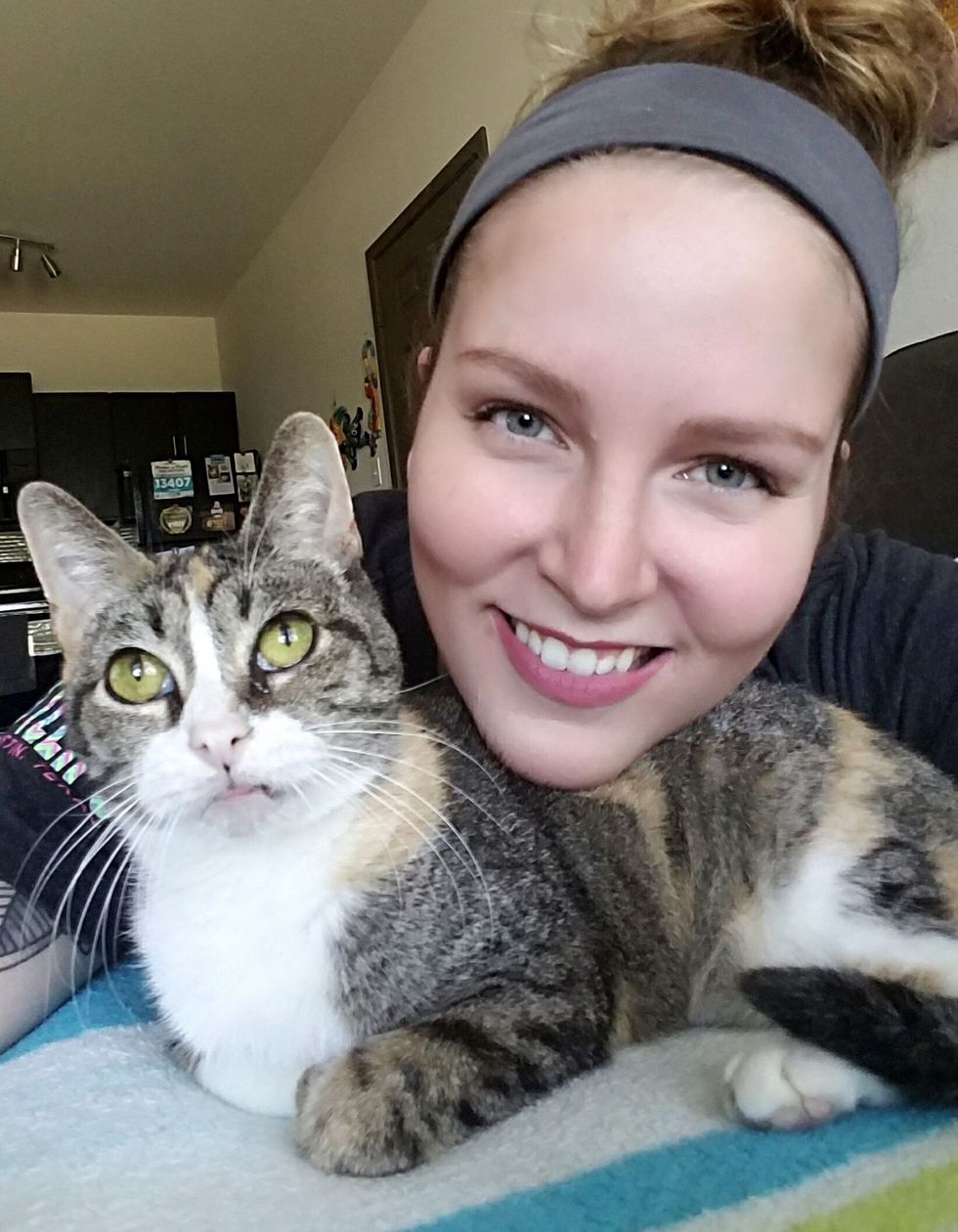 The cat realized that she finally found a home. "Ever since then, she has slept through the night (right next to me and sometimes sharing my pillow) and has been the biggest cuddlebug," says Bridgid.
This old, deaf cat has so much love to give. And she has been just waiting for a chance.
"She brings so much joy into my life and I am so thankful that I decided to adopt," Bridgid reveals.
"This is so cliche, but so very true for me... I may have saved her life by adopting her, but she has very much saved my life as well!"
Share this story with your friends, and if you have some similar story, we would love to see it in our comments section.
Leave a comment
Comments will be approved before showing up.