Meet Bone Bone: The Enormous Cat Celebrity of Taiwan
Bone Bone is a cat and we all know that cats are the best but Bone Bone has the whole Instagram celebrity thing going for him. He's an enormous ball of fluff and the Thai people are literally obsessed with him. Everywhere he goes people in Taiwan want to pet him, hold him, and pose for pictures with him. The verdict is still out on how much he enjoys all the constant touching and attention but there's one thing for sure: he is too darn adorable. His pictures are impossible not to enjoy looking at and no matter where you are in the world, it's not hard to see why the people of Taiwan are so obsessed with this giant ball of fluff!

1. Big, fat cat!
He's all fluff and love.
2. Bone Bone
Just look at this purr-fect face!
3. He's enormous
Seriously, look at how big he is compared to these people!
4. Fluffy love
Enormous paws for an enormous cat. Also note the tummy. Such a pet-worthy tummy.
5. Bummer
Who could resist petting and loving him though?
6. But sometimes...
Sometimes he doesn't seem to mind posing for photos!
7. Then again...
Other times, not so enthusiastic.
8. The verdict is... in?
He still looks enormous to us.
10. Well, we didn't see this coming.
He's so big yet so good at climbing...
10. Everywhere you go...
He's too fantastic to ignore.
11. Unusual Rumors
He is totally out of this world but we're not sure about this rumor...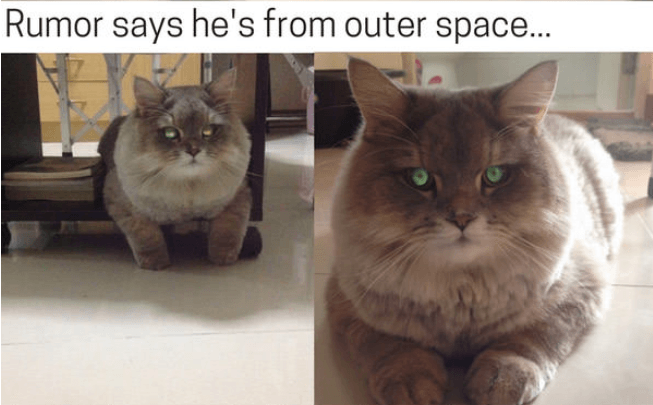 12. Bone Bone!
Such an interesting name for an interesting cat...
13. He's purrfect.
Seriously, look at him. He's absolutely purrfect.
14. Meow, meow...
Just look at him displaying all of his fluffy glory.
15. It's official:
Bone Bone is definitely the best thing to happen to Instagram and Taiwan lately.
Leave a comment
Comments will be approved before showing up.