Washtenaw County, Michigan has a population of 367,000+ and for every resident who tuned into ABC's local WXYZ Channel 7 news one fine June afternoon, they were delighted and entertained in ways they certainly didn't expect!
Nima Shaffe, reported for WXYZ was doing his job when the persistent meows from a stray orange tabby literally stole the show, im-paws-ible to ignore! Schaffe found the sweet kitten irresistible and paws-ed his reporting to scoop the kitten up. Before realizing the kitten was a girl, Schaffe jokingly said, "He's going to be our new mascot!" Then added, "he greeted photojournalist Andy Zaremba and I here in the parking lot and he's been pretty vocal. He tried to take over my time and he's been hanging out underneath our truck here and so we've taken him under our wing."
To escort the kitten to the Humane Society of Huron Valley, the sheriff's department stopped by and couldn't resist an opportunity for a quick photo!
The kitten earned the name "Lucky Seven" and the Humane Society determined she was approximately six weeks old. At less than 2 pounds and at that tender age, she wasn't quite ready to be adopted out. Wendy Welch, the humane society's marketing director, explained to ABC News:
She'll probably be ready sometime mid-July. She's too little right now. She's a little purr-monster.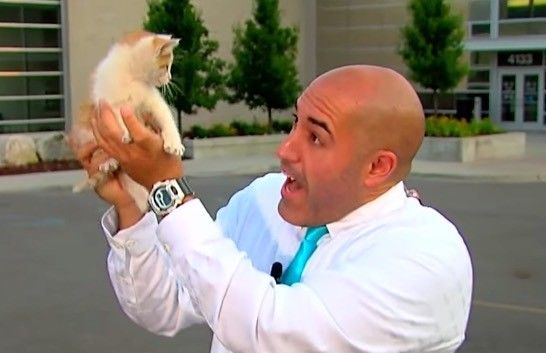 While Welch noted the Humane Society has no shortage of kittens and cats up for adoption, Lucky Seven was certainly special. She said, with a smile, "this is definitely the one that's gotten the most attention as of lately."
Check out the video of her self-empowered rescue here: